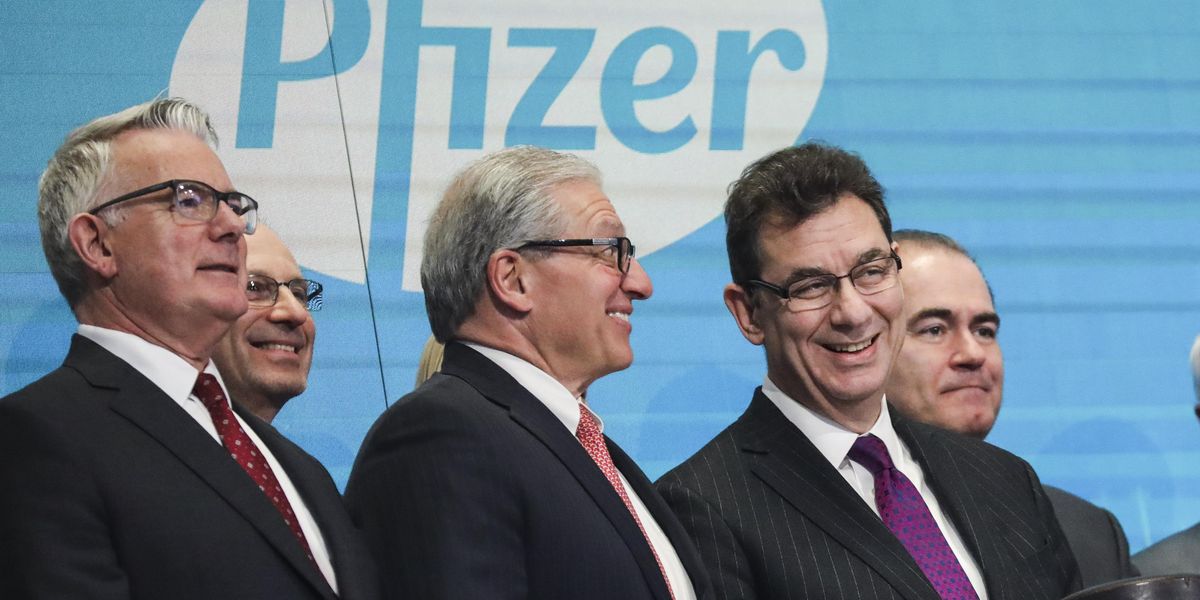 The U.S.-based pharmaceutical giant Pfizer reported Tuesday that it brought in a record-breaking $100.3 billion in revenue in 2022 and $31.4 billion in profit, sums that campaigners decried as "sickening" in the face of an ongoing pandemic and persistent inequities in coronavirus vaccine access.
"In one year alone, Pfizer's revenue has exceeded the total health expenditures of more than 100 countries combined," Julia Kosgei, policy co-lead for the People's Vaccine Alliance, said in a statement. "If it were a country, Pfizer would sit in the wealthiest third of nation-states. And it has amassed this fortune while jacking up prices on Covid-19 vaccines amid a pandemic that has devastated people's livelihoods. Put simply, Pfizer has plundered health systems for profit."
Pfizer, led by CEO Albert Bourla, is the manufacturer of one of the two available mRNA vaccines for Covid-19, as well as the oral coronavirus treatment Paxlovid. The company reported $56 billion in sales of its Covid-19 vaccine and Paxlovid, though it said it expects sales to drop in the coming year as it moves to hike prices significantly on its vaccine—a plan that has drawn international alarm and outrage.
Globally, more than 2,600 people are dying from Covid-19 each day on average. According to Our World in Data, just over 26% of people in low-income nations have received at least one coronavirus vaccine dose as Pfizer and other pharmaceutical giants refuse to make their vaccine technology available to all—even though it was developed with the help of government funding and scientific advancements.
"Billions of people in developing countries still cannot access affordable Covid-19 medicines," said Kosgei. "Companies like Pfizer are gobbling up ever-greater proportions of health budgets and handing the spoils to wealthy shareholders—all while treating access for developing countries as little more than a PR initiative. We cannot go on like this."
The U.K.-based advocacy group Global Justice Now called Pfizer's record earnings report "sickening."
"With this latest 'all-time high' announcement, Pfizer now has revenues higher than the GDP of 133 countries, including 8 E.U. member states, and is the first pharma company ever to make $100 billion in a year," noted Tim Bierley, the group's pharma campaigner. "But not content with doubling its revenues with a pandemic windfall, they are now still moving to aggressively hike the price of Covid-19 booster doses, putting even more pressure on already struggling public health systems."
"Their latest record-breaking revenues are further proof that the company treated the pandemic as an opportunity to enrich its shareholders," Bierley added. "We can't allow Big Pharma companies to hold us to ransom in this way. We need the government to be bold and break with the monopoly patent model that fails people everywhere. It's time to put people's lives above corporate profit."
"A people-funded vaccine should be cheap and freely available."
Both Pfizer and Moderna have signaled plans to raise the prices of their vaccines to somewhere between $110 to $130 per dose in the U.S. as the Biden administration moves ahead with the commercialization of coronavirus inoculations, tests, and treatments—shifting costs onto patients and insurers and leaving the uninsured to shoulder significant payments.
The U.S. government has previously paid around $30 per dose for Pfizer's vaccine.

In recent days, the Biden administration has faced growing calls to use the federal government's ownership of key patents and other leverage to force Moderna and Pfizer to make their vaccines affordable and readily available to all who want them.
"The Biden administration should not allow Moderna to more than quadruple the price of the Covid vaccine to $130 when it costs just $2.85 to produce," Sen. Bernie Sanders (I-Vt.) tweeted on Sunday. "The Covid vaccine must be used to save lives, not to further enrich the billionaire owners of Moderna."
Moderna and Pfizer are also facing backlash from lawmakers overseas over their planned price increases.
In a letter to Bourla and Moderna CEO Stéphane Bancel on Tuesday, British MP Caroline Lucas of the Green Party and three other lawmakers wrote that with the National Health Service "already under significant pressure and the costs of medicines increasing year on year, we are extremely concerned about the multiple impacts of a possible price hike."
"Throughout its development, the Pfizer/BioNTech vaccine received huge amounts of public money and support internationally," Lucas wrote. "Even the mRNA technology that Pfizer/BioNTech employed in the Covid-19 vaccine is rooted in decades of publicly funded research. A people-funded vaccine should be cheap and freely available."