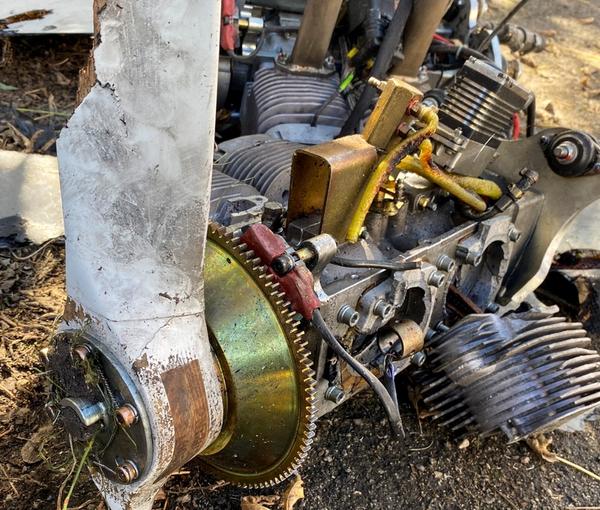 The Canadian-made engine of an Iranian Shahed-136 drone shot down over Ukraine. October 6, 2022
The United States Tuesday added seven Iranian entities to its trade blacklist for producing drones that Russia uses to attack Ukraine, the Department of Commerce said.
Nearing a year since Russia's invasion of Ukraine, allies have scrambled to gather and deploy air defenses to defeat cruise missiles and Iranian-built kamikaze drones that have attacked energy infrastructure this winter.
Tehran's decision to supply drones to Moscow has led to Western backlash against the Islamic Republic amid suspended nuclear talks and the violent suppression of protests in Iran. Washington says Tehran should stop its military support for Russia and the crackdown on protesters.
After Ukraine brought down some Iranian drones and examined their remains, it was discovered in November that dozens of American and Canadian parts were used in their manufacturing.
Other ground-based air defense systems such as Raytheon Technology Corp's RTX.N Patriot have been pledged by the United Kingdom, the United States and the Netherlands as allies hope to stave off further power disruptions.
The Iranian entities added to the blacklist are Design and Manufacturing of Aircraft Engines, Islamic Revolutionary Guard Corps Aerospace Force, Islamic Revolutionary Guard Corps Research and Self-Sufficiency Jihad Organization, Oje Parvaz Mado Nafar Company, Paravar Pars Company, Qods Aviation Industry, and Shahed Aviation Industries.
The Commerce Department posting said the Iranian drones are being transferred to Russia for use in Ukraine, activity that is contrary to US national security and foreign policy interests.