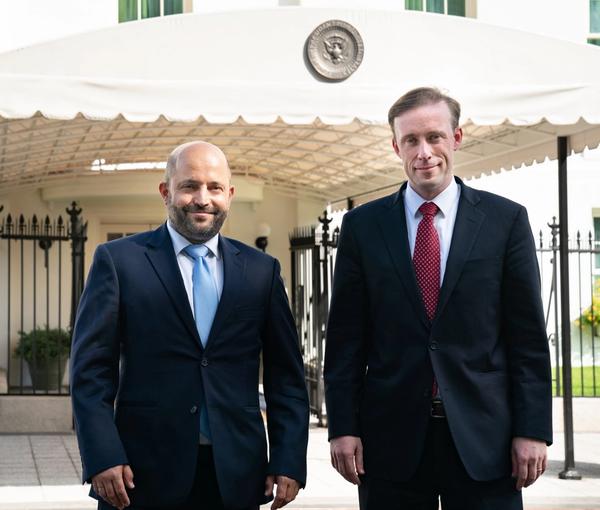 Israeli National Security Advisor Eyal Hulata (left) and US National Security Advisor Jake Sullivan
US National Security Advisor Jake Sullivan and his Israeli counterpart Eyal Hulata held a discussion Thursday over Islamic Republic growing's military cooperation with Russia.
Senior representatives from foreign policy, defense, and intelligence agencies also took part in the virtual meeting of the US-Israel Strategic Consultative Group (SCG). The national security chiefs and their aides reviewed Islamic Republic's growing military relationship with Russia, including the transfer of weapons the Kremlin is deploying against Ukraine, targeting its civilian infrastructure, and Russia's provision of military technology to Iran in return.
The officials also expressed commitment to countering Iran's threats in the region, and to ensuring that Tehran can never acquire a nuclear weapon.
According to a read out of the meeting released by the White House, they also discussed the broad array of economic sanctions imposed in recent months against Iran, reviewed ongoing cooperation and exercises between the US military and Israel Defense Forces, and assessed means for enhancing Israel's security and economic integration throughout the Middle East region.
British defense minister Ben Wallace also said on Tuesday that Russia was planning to give Iran advanced military components in exchange for hundreds of drones. "Iran has become one of Russia's top military backers," Wallace said.
The West is particularly concerned over the possibility of Iran supplying missiles to Russia, as Moscow's stockpiles dwindle.
Russian Energy Minister Nikolai Shulginov said in a statement on Tuesday that Russian companies are interested in cooperating with Iran on gas turbine technology and joint production. Russia has been trying to start producing its own gas turbines of medium or large capacity for years, but is yet to fine tune the process.